What is your role at Med Supply?
I am the Director of Business Development and Marketing at Med Supply.
How long have you been at Med Supply?
I've been with the company for 6 years.
What are you personally excited about at Med Supply?
I am personally excited about:
Future partnership deals with the Arizona Coyotes.
Shipments of medical-grade Nitrile Gloves that will give us the ability to provide to hospital systems and new customer bases all across the country.
Where Med Supply is going to be as the year goes on as we set ourselves up as a one-stop-shop for medical needs, textile needs, and home medical equipment.
Tell us about the changes to Med Supply as a result of the pandemic.
When the company first began, our primary focus was the nursing home market where now, we've opened ourselves up to so much more lines of business: school systems, other medical entities, hospitals, even dispensaries.
The way the pandemic changed us, I hate to say it was good for business, but it gave us the capital and the momentum to open up new relationships, open up new doors, get more of a grasp on supply-chain management. Also, we are able to look into ways where before we might have been buying something to send off to someone else, whereas now we have avenues to produce it ourselves, where we have the relationship with the manufacturers themselves so we can create branded items and things like that. That way we can sell directly not only to our healthcare systems, but anybody!
So the pandemic has really set us up for long-term success, even as the pandemic hopefully slows down, to position ourselves to be a medical supplier in so many different ways than we were before.
What are the goals for Med Supply in 2021?
Our goal is to make sure we are set up for long term success in the healthcare world, not only the healthcare world but set up for success to the point if you need something medical supply related that we are set up to do business with you for the next 5-10 years.
How did the partnership with the Arizona Coyotes start?
Through a partnership with another sports entity we actually got to know a group of guys really well that ended up moving on to work at the Arizona Coyotes. They reached out to us with a robust offering, where we would not only be a partner with them with, you know, corporate sponsorship and things like that, but the ownership group that owns the hockey team doesn't JUST own a hockey team. They have so many more avenues of business with the hospitality, the construction group, etc.
Just really showing us that when you become part of the Coyotes family, you are really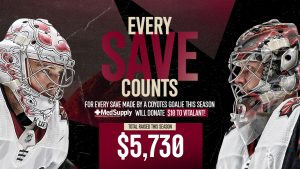 considered family then. With situations where you are going to be doing business, if the Coyotes are going to be doing business with somebody why wouldn't they do business with a partner as opposed to doing business with somebody that they don't necessarily know. They were really able to present to us the benefits and the business sense it would make for us to work together as partners. And, also their Every Save Counts Initiative would also give us an opportunity to make our presence known in the Arizona community and also show that we, for lack of a better word, have "skin in the game". We want to show that we care about the communities we service.
Does the company have any ambitions to take on more partnerships at this time?
Yes. We are always open to conversations about new partnerships.